It is hard to determine how many servings of food storage you will actually need for each person in your family in the event of an emergency. I found this post where a guy shares his real life experience of him and his family of 6 that lived on there Food Storage for a little over 10 months and what he learned from it.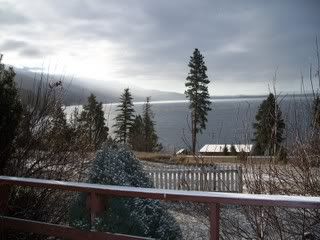 I am a 41 year old Husband and Father of 4 boys that was hit hard by the crash in the construction industry a few years back. I was making less than a third of what I was before the crash. I was offered a job back east and quit the job I had (besides I was burned out), looking forward to what I could offer my family. Well, that fell through and I was SOL.
I have a loaded CDL with years of XP and can get a job at anytime so this is by no means a pity fest. The Wife and I decided we would wait until something that paid well, opened up around here. As you guessed it, it didn't happen and I was not going over the road. So we decided to rotate through our preps and survive off of them, rather then move. We love it here and Montana is truly a paradise.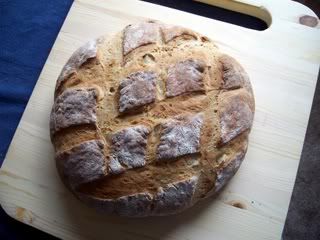 Here is a list of what we started with. It is not an all inclusive list, just the majority. This is NOT our LTS. We never cracked open a Superpail nor cut open mylar. We did use some #10's though.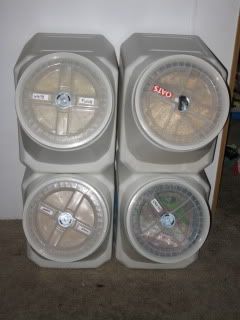 80 lbs oats, 50 lbs dry beans, including lentils and split peas, 80 lbs of white flour and 80 lbs whole wheat flour.
10 gallons of oil,
3 gallons of vinegar
12 lbs baking Soda
2 boxes Mashed potatoes = 224 servings
2 boxes Dry milk = 360 servings
1+ gallon broth
2 boxes cliff bars = 48 servings
4 lbs organic cookies
3 lbs almonds
4 x cookie = 12 dozen cookies
1 case condensed milk
1 case granola bars = 96 bars
Box of oral hygiene stuff (9 month - 1 Year)
80 lbs noodles
5 cases (12 each) chili
7 cases (12 each) Tomato sauce
5 cases (12 each) paste
2 cases (24 each) soup
2 cases (96) Tuna
3 cases (24) Albacore tuna
1 case refried beans
3 cases mixed beans (Kidney etc)
6 cases veggies
4 cases pineapple
2 cases oranges
1 case Apple sauce
2 lbs yeast.
400+ jars of home canned food...
Peaches, pickles, relish, cherries (sweet and sour), plums, jams, chutney, tomatoes, cheese, green beans, veggie soup, carrots, chicken, beef, pork, fish and game and more.
150 lbs rice (white)
30 lbs brown rice
100 lbs sugar
100 lbs white flour (outside of what was listed above)
salsa, olive oil, molasses, Crisco, corn meal, baking powder, corn syrup, dried fruit, chicken and beef base (150 servings), trail mix, No. 10 can of butter milk powder, 16 lbs of pop corn, 18 jars of peanut butter (about 25 lbs), condiments (soy, Worcestershire and hot sauces), 3 lbs. Parmesan, minced garlic (96 cloves) 50 lbs of potatoes, Cocoa, coffee and more.
This is just a sampling of what we were working with. We had the freezer close to full as well.
This is just what was in our
storage pantry
.
We used it ALL except…
5 lbs of oats
Some jam and relishes and home canned Veggie soups.
25lbs white rice.
Baking soda and salt
15 lbs dry beans.
Vacuum packed frozen Razor Clams.
5 lbs or so of venison.
A few random soup bones and frozen greens.
Molasses.
Gallon and a half vinegar.
Lessons learned,
It is never enough. You will use more than you thought. "On paper" and "reality" are different. You eat more than you think. Your kids will eat more than you know. (they are the most demanding)
When you burn through the cold
cereal
and the store bought convenience, even the little things like butter are sorely missed when you run out.
Homemade German soft pretzel's..
Some things store a LOT better than "they" say. The whole wheat flour was over year old when is started to go rancid. We only threw out a pound or so.
The aluminum baking powder (Calumet) went bad. But, the #10 can of Rumsford baking powder was fine after 10 years in storage and we are still using it after 10 months with no decline in performance.
Powdered buttermilk ROCKS!
The brown rice is still fine, although we are about out.
We had a few cans of 5 year old fruit we had to throw away. They didn't appear to be swollen but made the "beer can opening sound" when opening and they were discolored and spoiled. Did not, have a problem with tomatoes but, it is a concern of mine. I'll just can more of my own from now on.
Yeast lasts a loooong time. We had a vacuum packed bag that was stored in a #10 can that was fully viable after 15 years. I don't think they sell them like that anymore. But, the other vacuum packed yeast we had in the freezer and it is fine after 3 years. We also kept and maintained a sourdough starter.
While we have always been fugal, it is hard when nearly 100% is homemade. The kids need a pick me up and holidays MUST be observed.
I pushed this hard enough to where I cut off internet for 3 months. We drove the kids in to the library once a week to get on-line. We have never had cable of satellite so that was no loss but,
Netflix
had to go for 3 months as well. I ended up with more firewood and chores done Lol! I traded for my Son's senior pics. We mended clothes. We went foraging. The wife is mushroom hunter
All from preps. Homemade buns too!
We were sorely lacking in "Better than Bouillon" Broth bases. (we like the natural stuff. We don't do MSG) We ran low on some spices. To the point of scraping snow off the herb bed to get at the fresh
oregano
and parsley. lol
I now know where our weak spots are and will adjust accordingly. I am headed off to work and will be fully restocked in a month or two.
I had the cash to pay rent, gas and power. I had enough to buy some fresh salad fixings, cheese etc. We just wanted to know how far our pantry would go. I am glad we were not forced into cracking LTS. That makes me feel good.
P.S. I have lots of pics of prep cooking if anyone is interested.

Read more at http://www.survivalistboards.com/showthread.php?t=230112#4kL3xSHldsl8YmLo.99